Patricia Venaleck:
Artist, Instructor, Life-Long Art Appreciator
Discovering a piece of art that moves you with its story and complexity is truly one of the most marvelous things in life. That's why I've made it my mission to become one of the propellers of fine art, with lampwork bead-making as my medium. I channel my artistic expertise to create one-of-a-kind pieces that art collectors just like you can wear in everyday life.
What led me to become an impassioned lampwork glass bead maker is my strong desire to bring out the color found in watercolors and combine this with the brilliance and shine of glass. And, while I found that working with watercolors produced this desired effect of color, I realized that it soon loses the glimmering wet look only fresh paint has.
I experimented with metals until I discovered that using this as my medium lacked the vibrance I wanted. It wasn't until I had combined metal, glass, and fire that I have finally found the balance between keeping the brilliance of colors with the strength and elegance of metal. Finally, I found the best way to create wearable pieces of art that allowed individuals to speak their style.
My Professional Training and Career Background
Bachelor of Art Education
Eastern Michigan University
Eastern Michigan University
Additional Teaching Certification
I spent 38 years as a secondary school art instructor with the Warren Consolidated Schools in Warren, Michigan. I primarily instructed students in the 9th through 12th grade on the topics of beginning and advanced art. Within my time in the school, I'd been able to accomplish the following:
Developed and Implemented Warren Mott High School Computer Art/ Commercial Art Program

Founded the Lampwork Art Curriculum for Students in the Mott High School Art Program

Showcased Brilliant Student Artworks in Display Areas Though Out the School District

Submitted the Entries of Four Students Who Had Won National Awards in the Annual Scholastic Art & Writing Awards (Competition for the Macomb, St. Clair, Lapeer Counties)

Studied Lampwork With Fellow Artists (Mari Johnson, Sharon Peters, Heather Thrimlett, Kim Fields, Stephanie Sersich)
Career Milestones and Achievements
Two of My Lampwork Pieces Have Been Published in 1000 Glass Beads: Innovation & Imagination in Contemporary Glass Beadmaking by Lark Books
One of My Lampwork Pieces Was Published in 500 Earrings: New Directions in Contemporary Jewelry by Lark Books
The piece Traveled to the Japanese Bead Museum in Japan for My Award-Winning Piece in Convergence II: Adorning the Past, Present, and Pretend
A Pair of My Earrings Was Chosen by Lark Books for Lark Studio Series: Earrings
Four Necklaces Were Published in Showcase 500 Beaded Jewelry: Photographs of Beautiful Contemporary Beadwork
Galleries and Show Participations
Since 2001, I have been showcasing my works in the following fairs and exhibitions:
Ann Arbor Summer Art Fair — The Guild
Ann Arbor, Michigan

Ann Arbor State Street Art Fair
Ann Arbor, Michigan

Common Ground Sanctuary Art in the Park
Birmingham, Michigan

Charlevoix's Annual Art and Craft Show
Charlevoix, Michigan

Grosse Pointe Art Fair
Grosse Pointe Shores, Michigan

Plymouth Art in the Park
Huntington Woods, Michigan

Levis Commons Fine Art Fair
Perrysburg, Ohio
Orchard Lake Fine Art Show
Orchard Lake, Michigan

Mount Clemens Art Fair
Mount Clemens, Michigan

Northfield Hills Art on the Lake
Troy, Michigan

Arts & Apples Festival
Rochester, Michigan

Sugarloaf Craft Festivals
Novi, Michigan

Elf Shelf Arts and Crafts Show (Troy Women's Association)
Troy, Michigan

Heart to Hands (Lutheran North High School)
Macomb, Michigan
Orchard Lake Fine Art Show
West Bloomfield, Michigan

Royal Oak Market: Art Fair Edition
Royal Oak, Michigan

Royal Oak Clay, Glass, and Metal Show Art Fair
Royal Oak, Michigan

Fine Art at The Village
Rochester Hills, Michigan

Crocker Park Fine Art Fair
Westlake, Ohio

Crosby Festival of the Arts
Toledo Botanical Garden, Ohio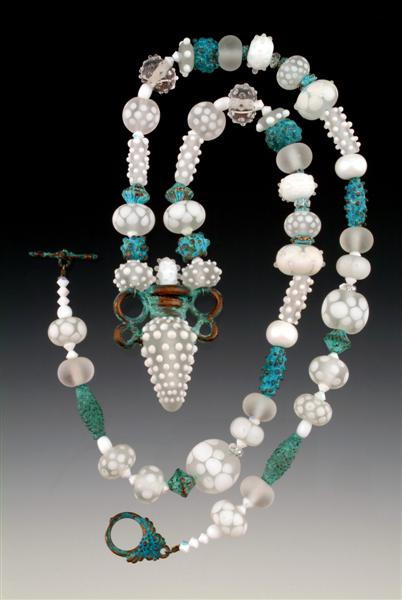 My work was exhibited at the ISGB Convention in Portland, Oregon (2004) and was shown and sold in the following galleries:
Anton Art Center in Mount Clemens, Michigan

Burning Bead Studio, Inc in Detroit, Michigan

Rubini Gallery in Benzonia, Michigan

Mullaly's 128 Gallery in Elk Rapids, Michigan

Firebrick Gallery and Pottery Studio in Rochester, Michigan

Ariana Gallery in Royal Oak, Michigan
Organizations and Affiliations
International Society of Glass Bead Makers (ISGB)
Michigan Art Education Association (MAEA)
National Art Education Association (NAEA)
Collaboration with Terri Dworkin
Patron of the Arts Award, Macomb Arts Council

2nd Place, Jewelry Category, Delphi Glass Competition (2002)

Honorable Mention Award, Mt. Clemens Art Fair (2004)

1st Place, Jewelry Category, Delphi Glass Competition (2004)

3rd Place, Shelby Art Fair (2006)

Finalist, Convergence: Contemporary Jewelry Design With Art—Glass Beads, a Traveling Exhibit of the Bead&Button Magazine and the International Society of Glass Beadmakers (ISGB) (2009)
Winner of Brighton Beads award 2009 at the Michigan silversmith guild show

Finalist, Convergence II: Adorning the Past, Present and Pretend (2010)

Finalist, ISGB Show Indelible (2012)

Finalist, Bead Dreams, Bead&Button Magazine's Annual Bead Artistry Competition (2014)
I'd be more than glad to tell you all about my wonderful experiences in the art world. Reach me now for all your inquiries.